In the past decade, I have developed over 300 websites. Some of my clients paid me to improve the look of their site, add or improve functionality, scale their site to handle their increased traffic demand, or help them sell their physical products.
Others wanted me to help them make money blogging. This last question is asked frequently on the internet, so it is time to share some of the knowledge I have accrued. Grab some coffee ☕️, and let's get into it!
Who Can Teach You to Make Money Blogging?
Many people are out there trying to answer this question for you. They give you some tidbits here and excerpts there, but they only have valuable content to offer once you pay them. Even still, many of them spew the same tips: write a lot of content, share your posts on your social media, pray a lot & work hard, and eventually, you will get some people to your site.
The "conventional wisdom" for those trying to make money blogging… is wrong.
Pssst… Adam Enfroy has the right ideas and has some inspiring success to report. Check out his How to Make Money Blogging in 2022 ($200k Per Month) post, because it inspired me to start my blog. Have you heard of Adam Enfroy? Comment below and let me know.
I have some practical, real-world experience with building a business online. Once upon a time, I was the CTO of a web development company called Quadshot Software, based out of Las Vegas.
We were exclusively online and grew our customer base in a very short time. That work eventually landed me a job a Google. Suffice it to say I know my stuff.
Despite having vast experience, keeping current on the latest trends, especially in Digital Marketing, is essential. To that end, I spent some time at the end of 2022 brushing up on what is working now. From all of that research, I found one fact:
Most Digital Marketers are teaching the wrong things.
There are many, many Digital Marketers out there. Most of them are preaching that they have attained success. They explain it in a hand-wavy way, making it sound like they know what they are talking about. Unfortunately for them, there are plenty of tools on the internet to see how well they are genuinely doing without their fancy words and charlatanism clouding the facts.
With tools like SEMrush and Ahrefs, you can see which sites are seeing success and which are flopping hard. Ahrefs data is particularly good for this. You can use them to weed out the fakers from the true leaders. Take a look at Adam Enfroy's site's stats: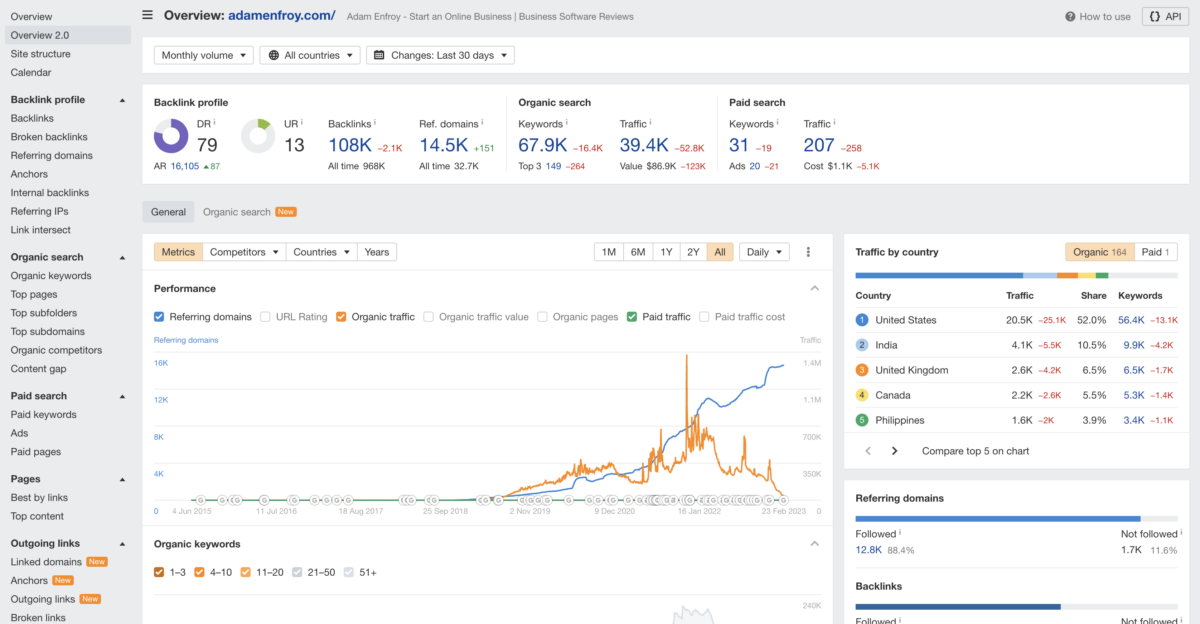 The stats do not lie. The trend of his traffic is upward. You can also see that his "referring domains" constantly rise.
Pssst… Ahrefs content or SEO tools are excellent. To my surprise, I recently discovered that SEMRush has even better tools! Check them out! They even have a 7-day free trial!
There is no denying that whatever this guy is doing is working! This is where we all want to be, preferably higher. At the very least, modeling after him is a good start.
I spent quite some time checking many of the "marketing guru" websites I found, and honestly, most show no growth… ever. Flat graphs galore. After finding the marketers doing things that work, I started consuming all their content. My goal in this article is to combine as much of that sage wisdom as possible into one who wants to make money blogging can come here for reference instead of reading 100 other sites with repeat information.
Tip #1: Run Your Blog Like a Business!
You got here because you wanted to learn how to make money blogging. Step one is to remember that your blog is a business! Do this from the beginning, not when "it is time to hire someone to help out."
Get ahead of the game and utilize your personal brand. Your time is better focused on building your business. Someone else can be paid to make the product you are selling or your marketing content.
You can still do some writing, social promotion, webinars, video editing, or any other job for your blog if you want. But do it sparingly so that you can focus on the tasks that will grow your business! One of the first steps down that path is to go ahead and start a Business.

Start a Business, From the Beginning
Since we are focusing on making a business, starting on day one, your first step should be protecting yourself behind a business name. Registering a business used to be super complicated, but the modern age has streamlined the process. You can file the paperwork using some online services within a few minutes.
You have options too! There are four main business types that bloggers usually file under Sole-Proprietorship, S-Corp, C-Corp, and LLC/LLP. Each option has different structuring and taxation procedures, so do your research.
My personal favorite is LLC/LLP. This covers the structural and funding flexibility I need for my future goals while being easy to set up and file taxes for. Your situation might be different.
Tip #2: Pick a Niche Based on Data.
Fakers use "conventional wisdom," which says if you want to make money blogging, you need to pick a niche that you are overly passionate about and directly related to your expertise. This is the standard suggestion because, with a lot of passion (or quantifiable domain expertise), you will usually have a plethora of writing topics that branch out from your blog's primary niche. The main idea is you should never run out of topics to write about.
Those same fakers use this same "wisdom" as the crutch for explaining why you might not be making money in the volume you expect. They tend to blame the lack of making money on you, citing that you need to be more passionate about the topic and work harder to write more content to attract more audience. Their main idea is that if you write compelling content, people will magically want to read it.
Like Adam, people who see true success challenge that old-fashioned way of thinking. They propose that 95% of bloggers fail to make money blogging because the niche they have selected is not profitable. It is imperative that a niche can be monetized. Otherwise, even if you have an audience, nobody will buy anything since there is nothing to buy.
Plenty of research in the industry shows that it does not matter if you write 10 or 10,000 articles on your blog. If people do not know that your blog exists or what it is about, you will never have an audience. Their search results should point them to your content.
Therefore, you should focus on getting traffic to your blog. Drive traffic to it, and your audience will grow. Have something to buy, and your audience will spend.
Bloggers, most bloggers anyways, are already super passionate. They started their blog because they care about the topic, and that has not changed most of the time. That's why it does not make sense to say they are "not passionate enough." Their passion is intact.
The problem with most unsuccessful bloggers is a need for a business mindset.
Beginner bloggers start writing about one of their passions because that is what "conventional wisdom" tells them to do. They tend to push the "how will I make money blogging" and "how will my audience grow" questions to the side as a problem for another day. Fast forward months (or years), and they have still not taken the steps needed to activate that money or that audience.
Most bloggers fail because they cannot transition from hobby bloggers to business owners.
Bloggers who want to make money blogging should prioritize it. Put money front and center. They should start their blog with money in mind.
Select a niche with a substantial audience waiting to consume content, not a low-volume topic without appreciable search traffic. Your site should be one of the first suggestions when people see their search results.
Beginning with a topic that already has a following will give you plenty of soon-to-be audience members right out of the gate. You don't need to worry about convincing random people that your idea is good.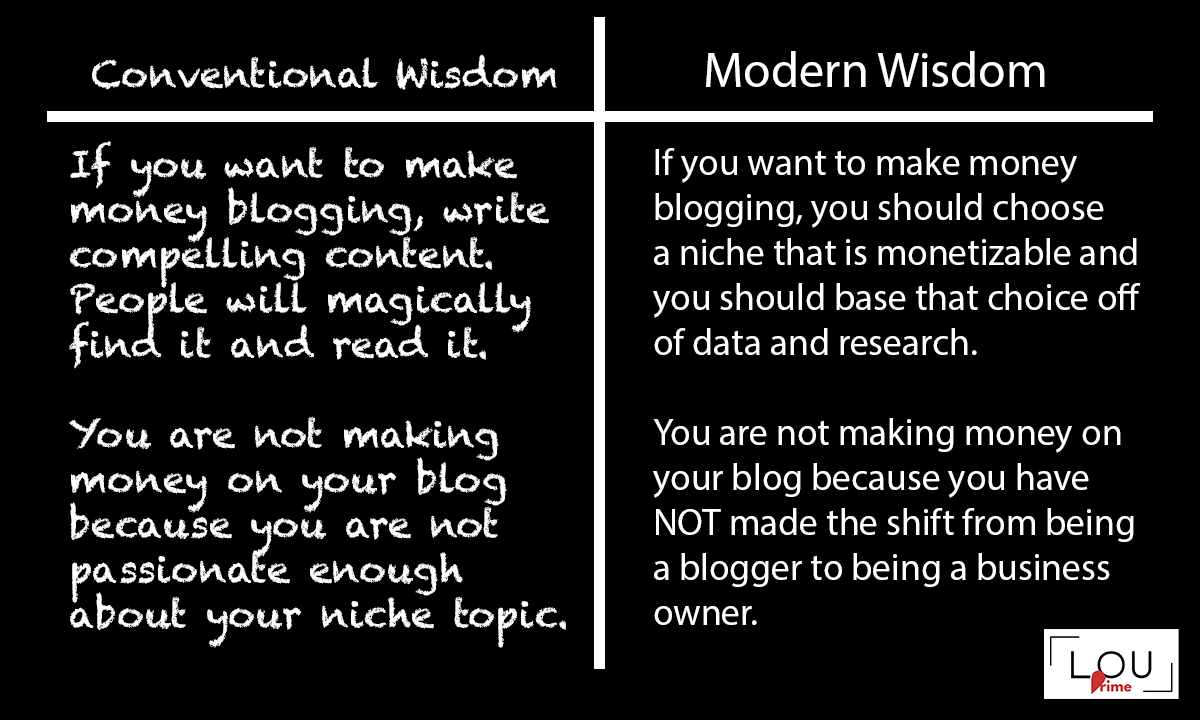 A Focus on making money should happen from the beginning, not as an "another day" afterthought. To make money blogging, there are three things you should focus on when choosing your niche:
Audience Budget Potential
Before you can make money blogging, you should consider your audience. Those valuable offers you present to them would need to solve their pain point. In an ideal world, you would understand the challenges they face so that you can offer them the most in-demand solutions.
One of the best ways you can ensure you know the challenges your audience faces is to try and find a niche for which you are also already an audience member. By being a member of the same audience, your personal experience with the problem gives you a head-start building (or displaying) your domain expertise. There is one more factor to consider, though.
When choosing a niche, the most critical factor is: How much money is your audience willing to spend?
If you want to make money blogging, ensure you are targeting an audience willing and able to spend money. Let me give you an example of how you might shift your business model to target an audience more likely to spend money.
Consider for a moment that you are starting a blog in the personal computer software niche. Your audience would be filled with all kinds of people: students, stay-at-home parents, professionals looking for an edge at work, your grandpa, etc…
Since you want to monetize your niche, you want to guide this new audience down your sales funnel by:
Creating content that your audience is looking for, like software reviews.
Providing them some value for free, like an e-book about some basics, to obtain an email opt-in.
Using affiliate marketing to monetize your reviews of software.
Then finally, offer your email subscribers $250 online courses (with a money-back guarantee) about How to use X Software to Improve Your Life!
This is an absolutely valid path; it is how most bloggers make money blogging. Eventually, you will gain enough audience members to profit in a few years.
But to accelerate your profits, you need to refocus your target audience.
Thinking about this from a money angle, do students, stay-at-home parents, or professionals with an average salary trying to climb the corporate ladder have a high budget potential?
If you want to make money blogging, you can make a tiny shift if your niche and see a massive acceleration of budget potential.
What if you tweaked your niche from "personal" computer software to "professional" computer software?
Mind… blown. It seems so novel and like it should not have any impact, just changing a single word. On the contrary, it makes a world of difference!
You can make money blogging without this tip, for sure. But, if you want to significantly accelerate your earning potential, implementing this one tip will get you there almost on its own.
This one tip has so much power. With this simple change, we shifted from targeting individuals to targeting businesses. Businesses have a lot more money to spend, so much so that even leaders like Adam suggest you can see a 200x return.
This shift from B2C into B2B makes sense too. To accelerate your ability to make money blogging, your audience should be willing to pay more and be able to pay more. Businesses can pay more for two reasons: they have more money to spend and will be spending money that is not coming out of their pockets or affecting their livelihood.
In addition, not much changes for your business. You can still land your blog the same way, choose your content the same way, and even direct users down your sales funnel the same way. All you are doing is changing one small part of your focus niche. There is another significant benefit, though.
By pivoting away from B2C and toward B2B, your offers can go far beyond $250!
This simple transition can massively accelerate your earning potential. With B2C offers, you might make money blogging by getting $15 from an affiliate offer or $250 from one of your courses. On the other hand, your B2B offers can catapult much higher. For instance, you could offer $5000/month in corporate consulting and training, which a business would be more apt to legitimize.
To accelerate your income and make money blogging, your audience needs to be in a lucrative B2B niche, and you should aim for recurring monthly income.
In the 2020s, it is not enough to blog about your passions, hoping thousands of low-value visitors can help you make money blogging. Instead, you can focus on getting a few high-value visitors funneled to your site who are ready to invest in their business by obtaining your consulting services. With this slight mind shift, you can transition your blog into a $10,000/month money-making machine!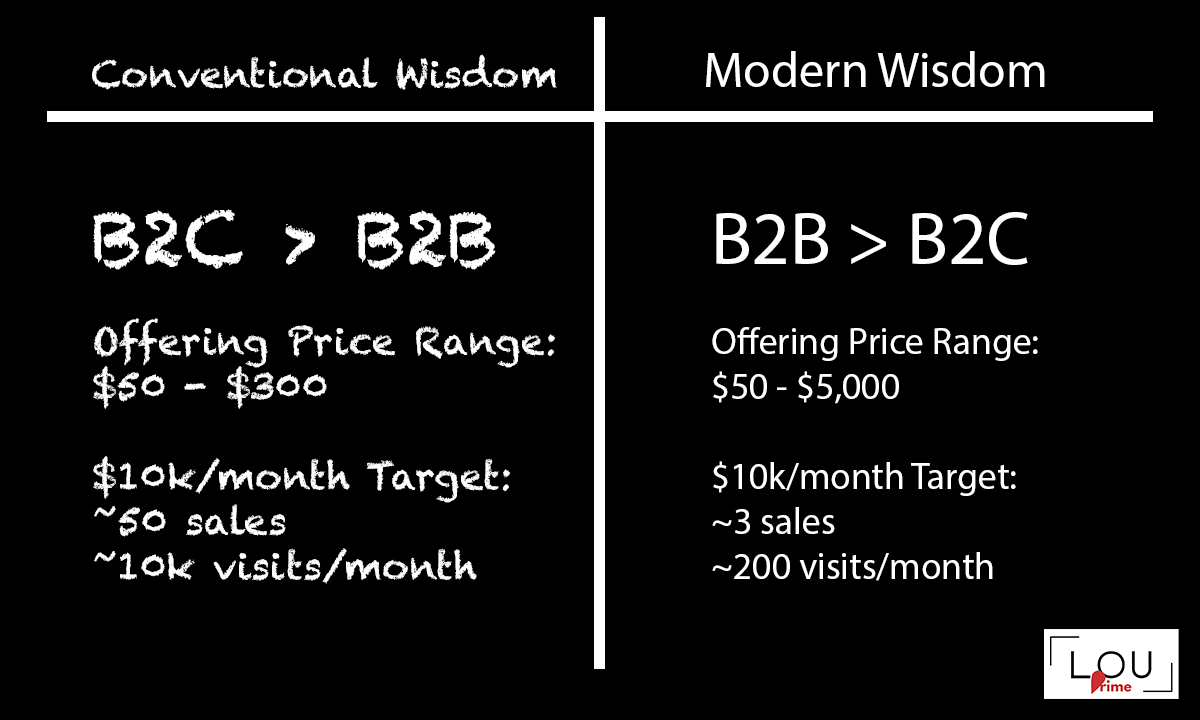 Professional Leverage
So you transitioned your audience to a more lucrative one. What's next?
Focus on identifying your powerful strategic advantages because of your unique experience!
Ask yourself:
How much experience do I have on this topic?
Who do I know in the industry that I can leverage as a contact?
Is there a way I can monetize my professional experience?
Are there other blogs on the web that would take me seriously enough to accept one of my guest posts?
Before you can make money blogging, you need to build your influence. To build your authority, you need to leverage everything you have at your disposal, such as your professional experience, your networking skills, and everything else like you have never done before. You need to step out of your comfort zone and get your feet wet because you will need those skills to build the new connections required for success.
Who are these "new connections" you should make?
You should build connections with other highly authoritative sites in your niche!
The power of backlinks is impressive! If you want to make money blogging getting those backlinks is not only recommended but also required, and without them, you will struggle like the 95% of bloggers not making money. You can get these backlinks in several ways, but the most powerful and easy way is to write guest posts.
These guest posts should be written on sites with high Domain Authority (DA) in your niche. Backlinks from those high DA sites to yours are still among the best ways to raise your site's DA and ranking with Google. Those backlinks are like a vote of confidence from the high DA site, indicating they believe your site knows about your niche. Google uses that vote to rank your content higher.
The higher you rank, the more likely you will make money blogging. We know that Google processes nearly 100k searches per second, around 8.5 billion per day, so plenty of people are looking for content to consume.
How can you convince sites to allow you to guest post if you are just starting out?
This is where your unique background and connections within your niche shine through. For instance, if you are like me, you probably have a client list of people you have worked with.
Or maybe you attend some local meetups and mingle with people there. You may know other people in your industry that you have worked with. If you leverage those connections, you can make money blogging much faster and much sooner.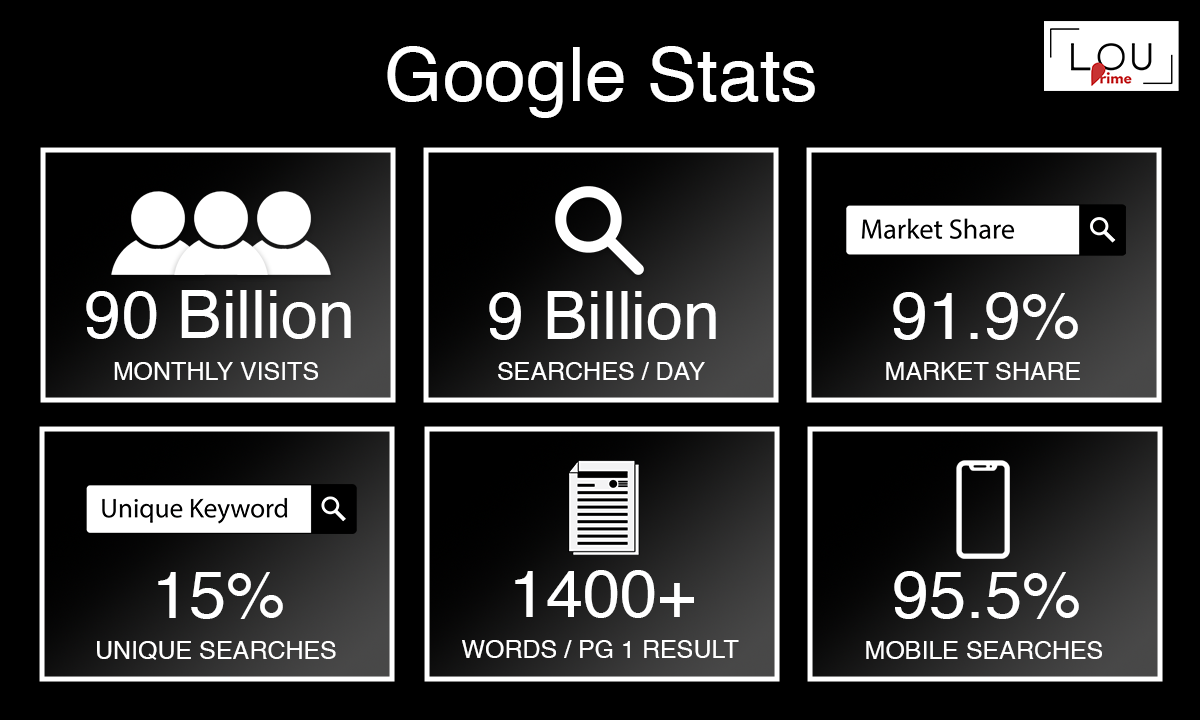 Market Demand
It may seem obvious, but you must choose a niche with market demand. Your journey needs to start with research. Conducting valuable keyword research can go a long way toward helping you make money blogging. People should be interested in what you are writing about; therefore, you should write about topics your audience is searching for that can be effectively monetized with the correct content format.
The most monetizable keywords are "best" and "how-to" guides.
The point is these keywords provide the most affiliate marketing opportunities. One of the most lucrative ways to make money blogging is through affiliate marketing, and these two types of content position you to make full use of this monetization vertical.

Let's see some examples of the "best" keyword:
For photography this could be "best camera" or "best image editing software".
With building improvement, it might be the "best water heater" or "best shower head".
In finance, people search for "best budget app" or "best stock broker".
People use these search terms intending to find something to buy. Most people want to understand the options available and research the pros and cons of each before making a purchase decision. Coincidentally, these types of searches also provide the best affiliate marketing opportunities, which is very good for you. The space is open here for you to write some long-form content that informs people about these products, and if they use your affiliate links to buy, you get a slice of the profit!
Similar power exists for searches on "how-to" guides:
In blogging, people search for "how to make money blogging" or "how to find topics to write about".
For automotive, they might search "how to change a tire" or "how to install a car stereo".
With content creation, it may be "how to start a YouTube channel" or "how to get brand deals on Instagram".
Your audience will want to consume this type of content when they have a purchase intent. They need to read long-form content format to understand the intricacies of each process you describe. Inside those detailed steps, you have plenty of opportunities to plug affiliate products from which you can make money.
To make money blogging, you need to use everything at your disposal, and targeting audience members who are ready to buy is a good strategy. Here is some research supporting that idea.
You can do effective keyword research with several simple tools.
There are a bunch of tools out there to help you narrow in on valuable keywords for your niche. Some example tools are SEMrush, Google Keyword Planner (by Google), GrowthBar, and Ahrefs. Each of these tools has its value prop that can accelerate your keyword research to the next level, like exporting data from content explorer.
Most of them at least shows estimated monthly search volume per keyword. One particularly useful tool is the ahrefs keywords explorer, which allows you to find new keywords. SEMRush has a similar tool called the keyword magic tool. When using any of these tools, if you see a field that says "leave this field empty if you're human" then make sure to leave it blank.
What should you look for when doing your Keyword Research?
Several things are essential when it comes to Keyword Research if you want to make money blogging. First, your primary keywords should have at least 5,000 monthly searches. With at least this baseline amount, you can ensure that there are some potential audience members to attract.
Another essential detail is Keyword Difficulty (KD). Basically, this is a measurement of how much competition there is for ranking on that keyword. A higher competition, like 80 or above, might be too high to rank for, at least right now, as you start your blog.
You should be targeting keywords with 5,000+ monthly searches and a Keyword Difficulty under 50.
Using this formula, you have a higher opportunity to get more traffic with less competition. That win-win scenario will help you make money blogging and accelerate your earning potential.
Ahrefs has another SEO tool to view your competition from a different angle. It allows you to look at Search Engine Results Page (SERP) data and analyze how each of your "page one" competitors rank in terms of Domain Rating (DR, which is very similar to DA). You can also see the full-page ranking history for each of them.
Choose keywords where at least one top 10 result has a DR under 50.
Finding keywords where a website in the top 10 has under 50 DR means that, with quality content over time, you can potentially supplant them in page rank, meaning you could potentially reach page one for that keyword! Now that is an exciting proposition, especially since it can help you make money blogging!
One last tip, if the top 5 have stayed the same in the previous six months, the keyword will probably be too difficult to compete on, at least with a low DR on your site. I think it would be best to steer clear of these keywords.
Pssst… Check out my more in-depth Keyword Research and Content Calendar guide.
Niche Summary
Focus on these 4 things when doing Keyword Research:
Focus on keywords with 5,000+ monthly searches.
The keyword should have a KD under 50.
You should have at least one top competitor for the keyword that has under 50 DR.
Recent Keyword History should have changed in the last 6 months.
To make money blogging, stop focusing so much on writing more content, and focus more on doing effective Keyword Research. Also, factor in your audience's budget potential, professional leverage, and market demand.
Start by finding an audience you are already a member of and where you already understand the challenges the audience faces. Level up that audience, focusing on the B2B component, and 200x your income potential. Leverage your professional skills, knowledge, and connections to their full potential. Catapult your blog to the top ranks, and begin to make money blogging.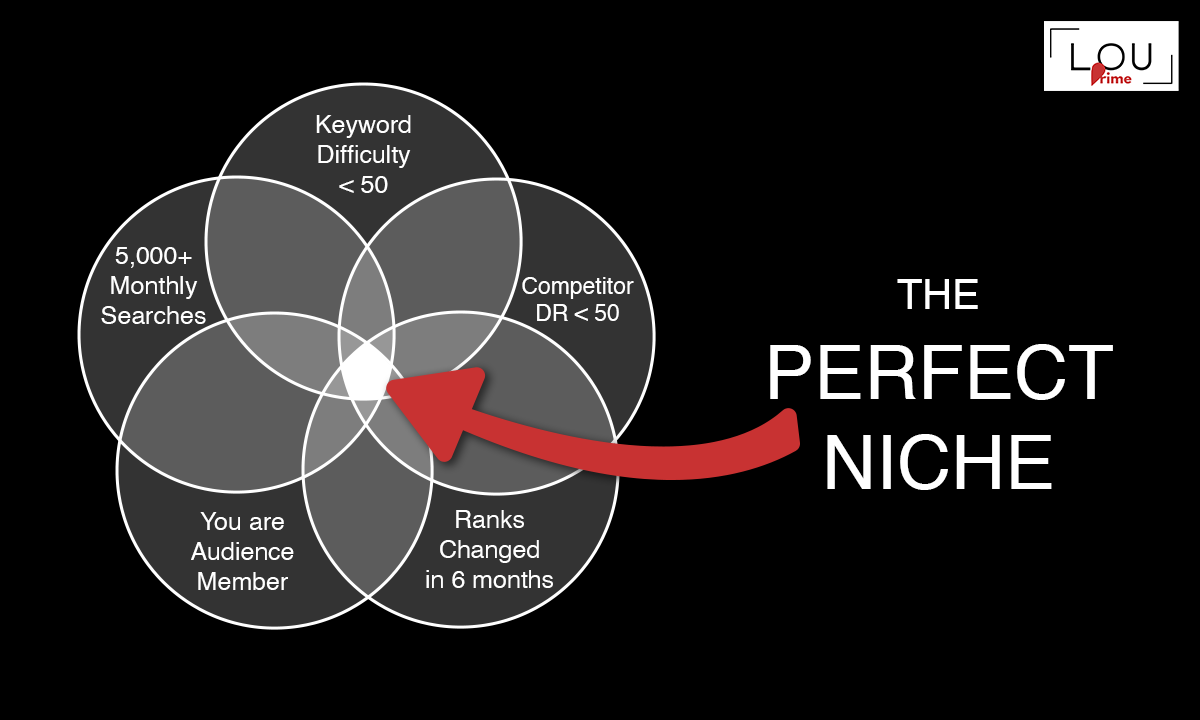 Tip #3: Stop writing. Build your team, so you can scale
Thought experiment: What if the ultimate success of your blog, and its money-making potential, had nothing to do with how much time you spend blogging in your first 90 days? What if it had nothing to do with you being the writer?
What if you could transform your blog into a business and not even write a single word? What if all the other advice you read slows down your progress? What if scaling your blog and earning potential has nothing to do with blogging? What if you could make money blogging without actually blogging?
Remember, you are a business owner, not just a blogger.
Writing first drafts takes time and energy; in your first 90 days, you have more important things to focus on. If you follow conventional wisdom, you will receive conventional results, where 95% of bloggers land and why they never make any money. Time for another profound mind shift.
Instead, run your blog like a startup, accelerating your credibility in your niche!
It would be best if you had time to focus on the "making money" part of "make money blogging." Generally speaking, this means your time should be spent building revenue streams rather than writing or worrying about the content format. A good first thing to get help with is writing.
You can use sites like Fiverr to find freelance writers skilled in your niche. Many writers are willing to leverage their domain knowledge and excellent writing skills, so you do not have to.
If you want to make money blogging, follow this simple template:
If you are like me and want to grow your blog like a CEO and make money blogging, not a hobby blogger, then keep reading. Let's break this strategy down a bit!
1. Outreach
A critical step in learning how to make money blogging is learning how to build relationships with other bloggers and influencers in your niche. To begin with, you need to make sure you are being equitable. What does this mean?
You need to provide them value before they provide you value.
Providing them value is vital to your success when building relationships with these bloggers and influencers. Nobody likes a taker. Do not just open a conversation with another blogger or influencer focusing on what they can do for you.
To make money blogging, you need to attract these influential people as a contact. To do this, you need to give them something that provides them value, and then they will be more apt to respond by helping you.
How can you help them? Ponder these questions in advance to reaching out:
Is there alignment with your expertise and their audience's interests?
Is there a topic for which you have unique expertise not already present on their blog?
Does their editorial calendar have gaps you may be able to fill?
When writing other guest posts, can you offer link-building to them?
The most powerful tip is to "understand your value & what you can do to help" them. Essentially, you should not start your outreach conversations with yourself in mind. Instead, reach out with the other person in mind. Bring them value, either by filling a gap they have in their content, by offering free backlinks from high-value sources, or by providing some other benefit that they can make use of.
In addition, you should not ask for anything in return.
That's right! DO NOT ASK FOR A FREE BACKLINK! This will get overlooked and ignored (and possibly permanently banned).
Proactively providing their blog extra value for free is the key to obtaining an effective backlink. Make them appreciate your presence, effort, and value. Then, of their own volition, they will reciprocate, which will, in turn, help you make money blogging.
Who should you be looking for backlinks from, and how should you approach them?
This is an important step when learning to make money blogging. You can start by creating a spreadsheet. I use Google Sheets because it is convenient, but you can use whichever software you like.
Add columns for at least these six things: URL, DA/DR, Traffic, Contact Name, Contact Email, and Status (for the outreach). Start compiling a list of potential blogs in your niche, and add them to the spreadsheet.
Use a tool like SEMrush or Ahrefs to look up each site's monthly traffic and Domain Authority. Add this data to the spreadsheet for each site. One important note is that you should target blogs with a DA above 50. This will focus your guest post efforts on backlinks that will boost you the most.
To save a little time, so you can focus on other things that will help you make money blogging, you can do a quick Google search for "top blog sites about X that are accepting guest posts." Lots of these "top blog site" lists exist, and finding one in your niche could accelerate your potential outreach URL list generation. Once you have the list filled with URL, DA/DR, and Traffic, you are ready to reach out.
A good place to start is LinkedIn.
Using LinkedIn, filter your results by their company name. Sift through the results looking for anyone having a title sounding like they work on the content or SEO for the site. Some examples are: "SEO Manager," "Content Manager," "Editor," "Content," and sometimes there are even "Guest Contributor Relations."
Find 2-3 contacts in that realm and connect with them on LinkedIn. Remember that a 2nd-degree connection is better than a 3rd. Remember to add their names to your spreadsheet.
After that, if you did not uncover their contact information, try using a tool like Hunter.io to find their company email address. Once you have their email, add it to your spreadsheet. Then reach out to them in an email.
To make money blogging, you have to be persistent but not overbearing. Using LinkedIn + email is usually enough to flirt with that line between "communicative" and "annoying."
2. Guest Post
High-quality, long-form, media-rich, relevant blog posts with backlinks are what is ranking this year. Armed with this knowledge, we want to understand how to use this information to our advantage. Enter the "Guest Post."
Adam Enfroy recently did some research into how powerful Guest Posts can be. I plan on doing similar research, but his article is a good reference for how effective guest posting can increase your blog's visibility. As part of your education on how to make money blogging, I highly recommend brushing up on his resources, particularly about Guest Posts to generate backlinks!
Now that you have 50-100 contacts for various blogs in your niche, what do you do with them? You want to make money blogging, so build relationships with these people and further your journey. Also, eventually, you want this to scale with your other blogging efforts. That means it is a good target for a solid template.
A good template for this would do the following:
Introduce yourself.
Offer them a compliment about their blog overall.
Point out a specific piece of their content that resonates with you.
Bonus: Let them know about any value you have already provided (like backlinks).
Indicate that you are interested in collaborating with them.
Ask them if they would like to be part of a link-building network.
Ask them if they accept Guest Posts on their blog.
Show them some of your past Guest Post work (if that exists already).
Thank them and indicate that you are excited to hear back from them.
Here is an example template that I have seen some success with:
Hey (First Name),

My name's Chris, and I'm the Founder of LouPrime.com.

I'm reaching out because I love (Target Blog) and am interested in collaborating with you on content.

I was looking for your feedback on two questions:

Would you like to participate in link building? I plan to write 1-3 guest posts this month and would happily link to your site in my content.
Do you allow guest posts on your blog?

I'd love to contribute to the valuable content of (Target Blog). I can even pitch some topic ideas that I think your audience will enjoy. Here are some recent samples from me:

Please let me know if you're interested, and I look forward to hearing back from you soon!

Thanks,
Chris
As you can see, it is pretty straightforward. Simple outreach like this does an excellent job of opening the conversation. It is on you to keep following up. With that, you will have paved the way to make money blogging.
This approach combines multiple important tasks into one step:
You started a relationship by introducing yourself.
You probed them about potential collaborations without being spammy or pushy.
You let them know of value you already provide them.
Next, you should pitch some topics to them.
Once your contact responds to you confirming their equal desire to collaborate, it is time to pitch the perfect topic. To leverage this guest post for backlinks and to set you up to make money blogging, you will need to follow some basic guidelines:
Make sure their site does not already have content for your topic. You can use Google for this by searching site:<their-site.com> <topic>. Make sure there is no space after the colon character.
Ensure your topic has SEO value for their site. Use a tool like SEMRush. Look up their site's organic keywords and see if there are gaps you can fill.
The topic should be something you can write about with confidence. You should only write about topics that you have experience and expertise in.
Their audience should already be hooked on this topic. Be sure to follow their site's editorial guidelines, their blogging style, and that the subject is well within the niche to which they cater.
After getting your topic approved, it's time to get this guest post underway so you can start to make money blogging.
3. Outsource
Remember the first point I made above: when trying to make money blogging, you must run your blog like a business. I strongly suggest not doing everything yourself. Instead, accelerate your growth by hiring a few key people to work for you.
You could spend all of your time writing and creating the absolute best content you can. You could write all your first drafts, revisions, and final drafts and be a one-person show for everything related to your blog. You can make each week best marketing content week, and write your hands off.
You could add writing to the long list of tasks you must complete for your blog to be successful. But, if you want to scale to a point where you can make money blogging quickly, you need to have enough time to do the things that make that money for you. You need help.
Your first employee should be a writer.
There are skilled writers out there for every topic on the planet. These people have not only mastered a trade that gives them expertise on your subject matter, but they also have honed writing skills, giving them a leg up on audience engagement. What's more is that you can find these ghostwriters, pay them, and they will create top-notch content for you. You can use this to your advantage.
Pssst… Whether you outsource your writing or do it yourself, you still need a writing tool to help make the content the best. Check out my suggestion of the best writing tool out there.
Employ this writer to make content, and you will open up your time to make money blogging. These writers will not only be able to produce your site's first drafts, but they can also generate the first drafts of your Guest Posts.
Collaborate with your writer by providing them with a topic and the general outline of the content (possibly even the headings you want to guide the content). Once the first draft is ready, you can edit it to match your voice and highlight focal points, assuming the writer has not already done this for you.
Scaling your blog by outsourcing some of these tasks will allow you to focus on growing your blog.
With some of these tasks outsourced, you can focus on finding and building relationships for Guest Post opportunities, initiating affiliate partnerships, and driving traffic to your site. Since your goal is to make money blogging, focusing on these money-centric tasks will help you achieve your income goals faster. Using Adam's process as a template, I intend to demonstrate, with this blog, that anyone can do this, even you and I.
One last thing. It recently came to my attention that the top ranking pages all use content writers to build their content library, at least in my niche. This is further proof that hiring a writer is the right way to go!
4. Backlinks
Why would you spend time building and finding Guest Post opportunities? One word, backlinks!
Backlinks are the bread and butter of building your audience.
Backlinks are like the currency of internet reputation. A backlink from a high Domain Authority (DA) site is like having a celebrity sponsor your site. Backlinks from these places will show search engines like Google that another blog in your niche believes you have what it takes to stand out. It is a vote of confidence, endorsement if you will, that you should also have a higher DA.
Pssst… If you'd like to learn more about backlinks, please look at my backlink guide. For now, though, here are the basics.
The more of these valuable backlinks you have, the more you can make money blogging! This is a side-effect of a few things.
They demonstrate that other sites find your content valuable.
More audience members are driven to your site from your Guest Posts on other sites.
Additional traffic gets sent to your Sales Funnel, meaning more income.
Having more Guest Posts with backlinks gives you more leverage when pitching more Guest Posts (for more backlinks).
This is a core tenant of my process and the primary driver for building those relationships with other blogs in your niche. Everyone wants more traffic, and backlinks are the best way to accelerate traffic growth. With more traffic, you have a bigger audience. More audience members lead to more income.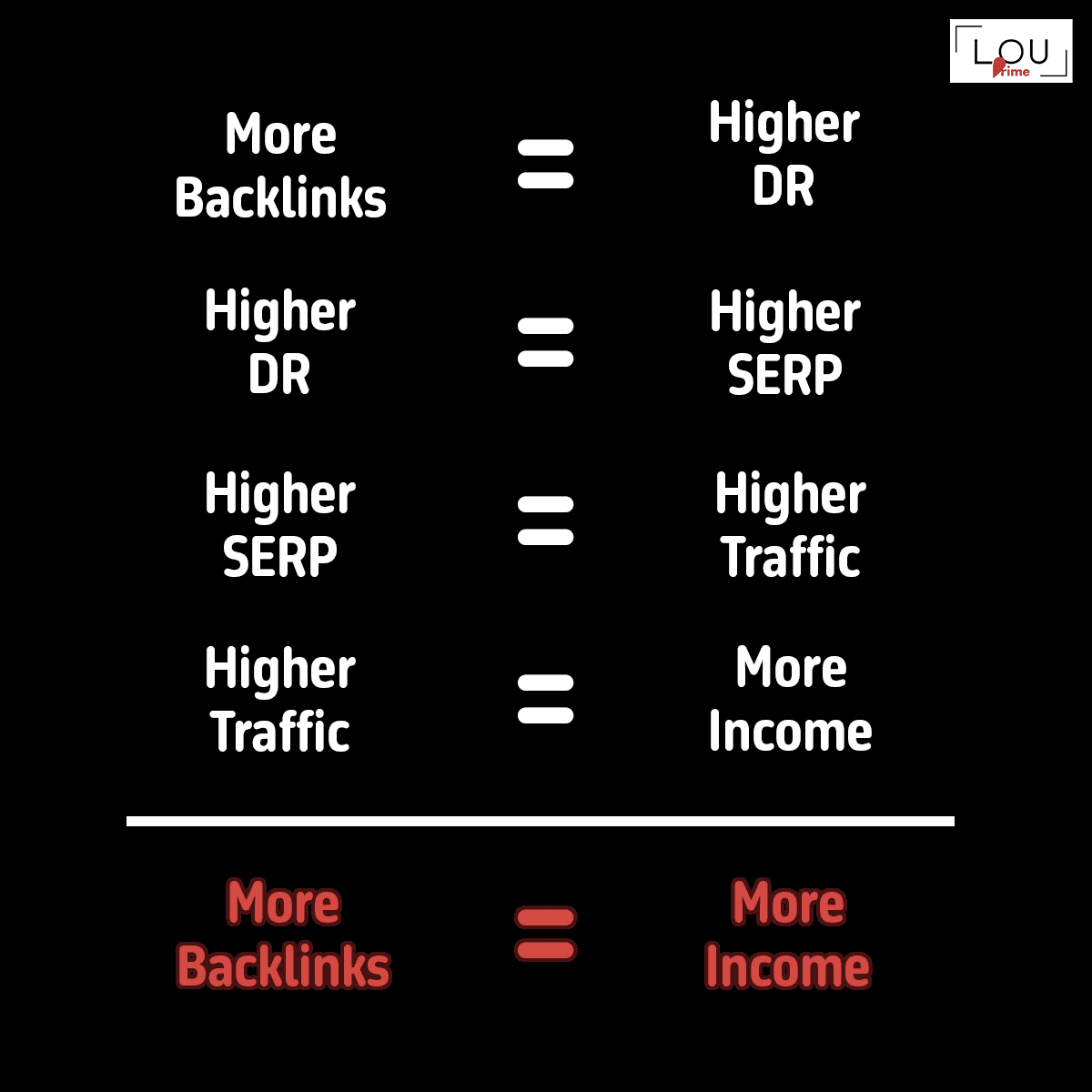 5. Repeat
We now have everything streamlined. We started to build a list of blogs we want to build a relationship with. With that list, we have reached out to many people about doing Guest Posts. On our site, we have hired a writer, who will knock out the first drafts, and we are acting like more of an editor.
Additionally, we tasked this writer with creating the first drafts of our Guest Posts. In each Guest Post, we add our backlinks to our site so we can generate more traffic and higher DA. What is next?
Wash, rinse, repeat.
This simple formula allows us to repeat the steps to scale our traffic quickly. Our efforts focus on building relationships with other blogs in our niche, building our Domain Authority, driving traffic to our blog, and gearing up to make money blogging. Adam used this approach to scale his DA from 0 to 70+ in less than one year! I am already on track to do the same!
At some point in the future, you will likely want to outsource even more tasks to additional employees so your time can be freed up even more. Your next hire may be someone to build and manage your Guest Post outreach and submission process. Next, you might hire someone to spruce up your website, attracting even more audience members. Someone can promote your blog on social media for you.
The possibilities are endless. Remember, you want to make money blogging, so let's talk about that next!
Tip #4: Monetize Your Blog, and How
You have quite a few options for monetizing your blog. There are several different potential income streams. Each of them has traffic requirements to be profitable.
For instance: ads, affiliate marketing offers, digital products (like courses/masterclasses), consulting, one-on-one coaching, sponsored posts, physical products, and merchandise. The list goes on, but these are some of the common ones.
When you want to make money blogging, the most valuable tip is to plan your monetization from day one and make sure to time your monetization efforts based on the stage your blog is in. What does this mean? Let's explore that!
1. Create a Monetization Timeline
Starting a new blog, you will have zero traffic on day one. This limits how much monetization you can actually do, at least for now. Why?

What do I mean? Firstly, ads on your blog, while they make you money, they actually do cause some reader friction. Monetizing with ads can be lucrative, but it requires two main things to work:
A careful balance between the number of ads and the patience of your audience to deal with them.
At least 100k monthly visitors to your site for impressions.
You may know this, but ads typically pay pennies per click. Clicks are a numbers game and are purely based on your article stats. Therefore, you need a lot of traffic to make money blogging via ads.
You should expect that only a tiny percentage of your traffic will intentionally click ads on your site. Let's talk about an example.
Ad Revenue example:
Let's say you reach 10,000 monthly visits to your site. You have ads on your site. A typical click on an ad will generate $0.10 of income.
Assume that your average CTR (click-through-rate) for ads on your site is around 3%. Math time.
First, let's calculate a rough estimate of how many clicks you might see on ads:
10,000 visits x 3% CTR = 300 clicks
Then let's calculate how much money that will net you:
300 clicks x $0.10 = $30.00
That is pretty underwhelming. 10K visits per month will only net you a handful of dollars. This is why you need 100K+ visitors to make any appreciable money.
This would be great for a future stage of your blog's journey as a supplemental income stream, but to begin with, you should push the breaks on it. What else is there?
There is always Affiliate Marketing.
This is where you promote someone else's product on your site, provide a link to the user that identifies you as the source of a sale, and collect money from the seller when the user purchases their product. This uses different conventions but has a similar problem.
Affiliate Marketing is usually most accurately measured by "conversion rate." "Conversion Rate" is visitors/sales. Ergo, the more visitors you have, the more sales it will generate.
The more sales you generate, the more money you make from the Affiliate Program. Let's run through an example.
Affiliate Marketing example:
After a little effort, you reach about 1,000 visitors a month on your blog. You sign up for an Affiliate Program with Bluehost. They are offering you $65 per sale you direct to them.
Your audience has average engagement with your content about Bluehost, resulting in a 1.5% conversion rate. Math time.
First, let's calculate how many monthly sales you will make:
1,000 visitors x 1.5% conversion rate = 15 sales
Then let's calculate how much monthly income you can expect from this Affiliate Program:
15 sales x $65 kick-back = $975
That is a bit better than ads, but still not life-changing money. More traffic will mean more money, so maybe this would be a good tactic if you have 10K+ audience members per month on your site. You should probably not go this route right out of the gate. What could you do if not ads or Affiliate Marketing links?
An excellent place to start is Coaching or Consulting in your niche.
Recurring Coaching (primarily for individuals) or Consulting (more geared towards "company" clients) should be your bread and butter from the start. These ongoing premium services can net you $1,000+ per client per month, but it will require your time instead of being a passive income source. Why is this preferred to start, because that seems backward when considering "conventional wisdom?"
Simply put, you will not have enough traffic to make ads worth it or Affiliate Marketing Programs super profitable. Coaching/Consulting, on the other hand, can be a real money maker.
Your sales for these high-ticket services will follow the same "conversion rate" metric as the Affiliate Marketing Programs. The difference is that you will keep all of the profit. You can also charge more. Let's see an example:
Consulting example:
Your blog has 400 monthly visits, so you want to monetize them. After researching, you have successfully set up your Sales Funnel, and people follow it.
Since you just started your Sales Funnel, you expect a low 0.5% conversion rate. Now you want to convert these potential customers into long-term clients paying you for recurring consulting at $2,500. Math time.
First, how many sales will you get from this traffic:
400 visitors x 0.5% conversion rate = 2 sales
Now, how much money will you net from that per month:
2 sales x $2,500 profit = $5,000
Even if this was not recurring, this is still starting to look better than ads and Affiliate Marketing, at least from a money standpoint. This does require your time. It will not scale as smoothly as ads or Affiliate Marketing since those are super passive, but immediately you can see money can be made here. If you had 4 of these clients after a few months, that is $10K a month or $120K a year!
Timing is paramount when planning your monetization strategy.
A good strategy has layers. You could start with Consulting services. Maybe around 1,000 audience members, you begin to offer a simple Digital Product such as a masterclass.
At 5,000 visits, you get some Affiliate Marketing going. Around 100K, you put ads on your site if you feel your other sources are not generating enough income.
Do not start your blog with ads on it.
There are plenty of other, more lucrative ways to make money blogging, which do not involve embedding ads. All of those other income streams cause less user friction too. In the end, that means more sticky customers.
2. Optimize Your Sales Funnel
As mentioned above, most of your audience should be put through a Sales Funnel. The Sales Funnel is a valuable tool, guiding your audience down a path that turns them into customers. Since to start, you have Consulting Services, a high-priced item, instead of smaller income sources.
You'll need to guide your audience to the sale instead of waiting for them to purchase your services magically. You do this with your Sales Funnel.
Pssst… If you want more details about implementing a Sales Funnel, check out my guide to Sales Funnels. There are some excellent tips in there and some valuable external resources.
Here is the outline of how users should follow your Sales Funnel:
Users read your high-value content, presumably related to your high-priced service.
These users opt-in to your mailing list via a Lead Magnet (freebie offer, like a one-page cheat sheet).
Bonus/Optional: You build trust by offering a lower-priced product for $50-$150.
Your first email introduces yourself and convinces them to book a meeting with you.
Those B2B audience members meet with you and buy your Consulting Services at a recurring $2,500 / month.
Understanding and implementing this flow will help you make money blogging fast. Using this list, coupled with all the other advice we discussed above, your starting blog should only have a few pages: around five pillar content posts, a one-page PDF for your Lead Magnet, an Email Platform that tracks your subscriber list, and a sales page dedicated to your Consulting Services.
Remember, to make money blogging: you should be a business owner, not a blogger.
Your blog should present a solution to a pain point your audience members experience. Earlier in this article, we talked about how, when choosing a niche, you should pick one for which you are also an audience member. This will give you a leg up on understanding the challenges the audience faces.
This will uniquely qualify you to propose a solution to those challenges. This is your Consulting Service, not your blog. At least in the early days, your blog is the tool you use to drive people to your Consulting Services. This is how you make money blogging.
Put plainly: your Sales Funnel should help your motivated audience members decide to purchase your Consulting Services through ongoing conversation and exchange of value. At some later date, you can transition your efforts such that your audience members are driven to your other income sources, like your Affiliate Marketing content.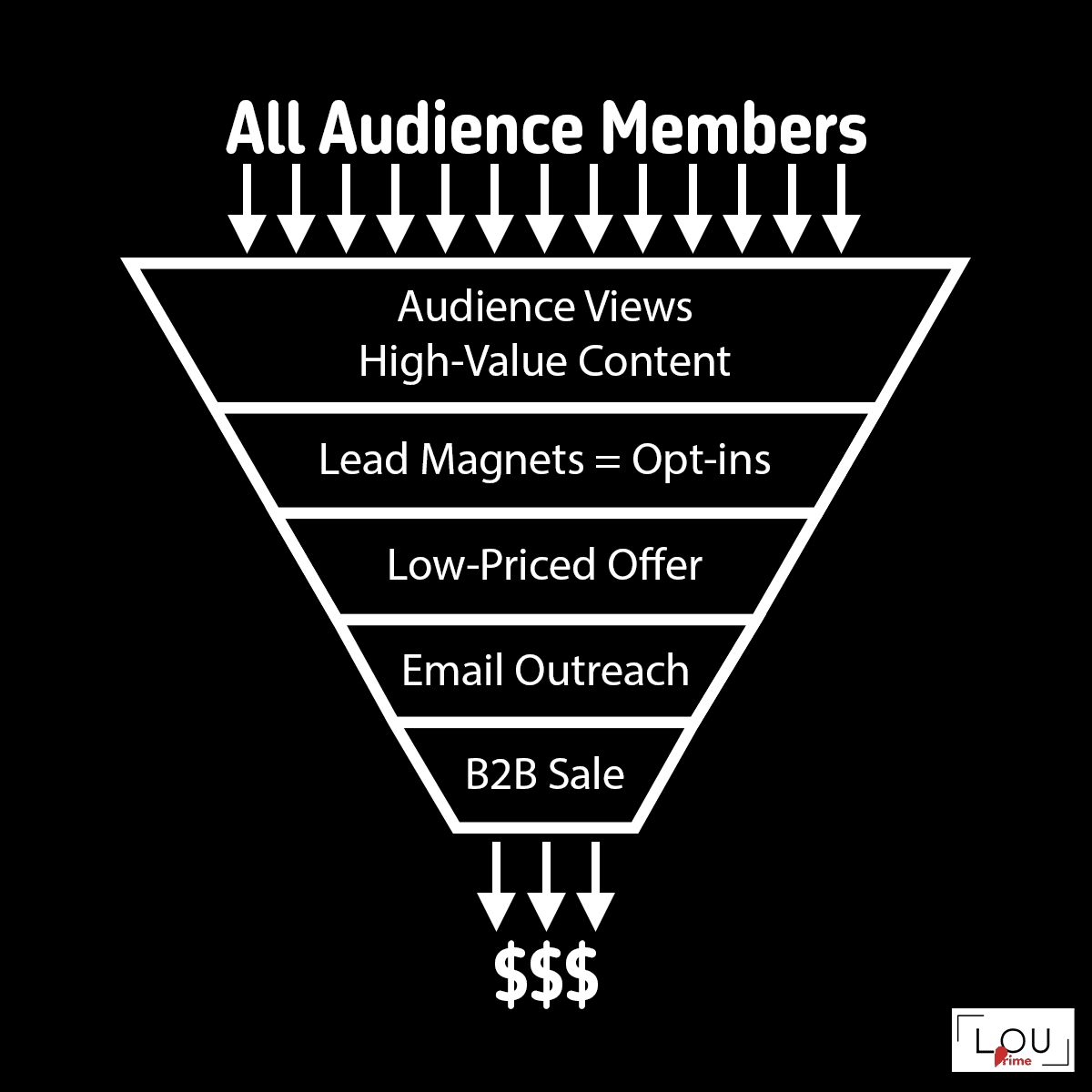 3. Get Your Consulting On-Point
Initially, your site should focus heavily on getting your B2B clients to your Consulting Services page because that is how you will start to make money blogging. You need to be strategic about it, though:
Your Consulting Services page should be keyword optimized. Specifically, the keywords should be something potential B2B audience members might type into Google.
The navigation on your site should include a link directly to this page.
The Homepage, About page, and all of your pillar content should link to this page too.
When you Guest Post, make sure to strategically include links to your Consulting Services page. A good place for this is in your bio.
Make sure to have a professional photo of yourself on this page so people know what you look like.
Ensure that it is easy for visitors to contact you from this page.
Focus on getting people to this page and on how those people can contact you. Nothing is worse than going to a page about a potentially valuable product that looks like crap with no way of connecting to the owner.
4. Start With Email Opt-ins
Before you communicate with your audience, you will first need to obtain their contact information. A proven formula for doing this is:
Offer your audience something of value for free in exchange for their email address.
I suggest using ConvertKit + OptinMonster for this. This suggestion is based on how easy and powerful these tools can be, most notably when they work together. Let's explore what each of them does and why they are imperative tools for building your potential customer list.
ConvertKit is awesome.
ConvertKit is a powerful Email Marketing tool. You can leverage this tool to keep the conversation going with your audience members. Some valuable features are:
An advanced tool for triggering communications based on interactions your audience makes with your blog.
You can create drip campaigns and link them together based on interactions with the emails.
Like MailChimp, they will keep track of your subscribers and help you organize them.
Unlike MailChimp, the text emails sent with this tool do not have annoying branding.
The last item on this list is super important. Thinking about it. When most people read emails, emails sent directly to them from individuals usually contain text only, without any fancy HTML.
You do not want your emails to fade into the background with all the other Marketing spam. Instead, you want your users to read it.
Making it more conversational, as if it came from an individual and not a company, will increase the number of people who read it. When building personal relationships with people, you typically converse with them in text only. This is especially important if you are trying to gain enough trust with them to buy a high-value, high-priced Consulting Services product.
OptinMonster is powerful in its own right.
This tool is easy to use. You can use it by installing a simple plugin on your WordPress site. It easily integrates with your blog and with ConvertKit. The tool offers several ways to drive opt-ins for your mailing list.
The most undervalued mechanism is the Exit-Intent Popup. When users move their mouse in a way that indicates they are about to navigate away from your blog, OptinMonster shows the Exit-Intent Popup. This drives the majority of my list joins currently.
5. Later, Lean Into Affiliate Marketing, Hard
When you finally reach enough traffic, one source of income becomes an amazing powerhouse:
The best way to make money blogging is with Affiliate Marketing.
The rule still applies that it requires moderate traffic to your site, but there is something to be said when I look at the progress of industry leaders and see that 70% of their income can come from Affiliate sales. Most of the top bloggers make heavy use of it.
Look at NerdWallet (anyone concerned about their money has heard of NerdWallet). When you search "best credit cards" on Google, the top result is NerdWallet.
Go to their blog, and you will be presented with more than 40 credit card offers, rated by the blog in categories their readers care about. Users click the "Apply Now" buttons and sign up for a credit card. NerdWallet gets an Affiliate Marketing payout for that action.
Digging deeper into how powerful this can be: roughly 180,000 monthly searches for "best credit cards." Remember, they are the top result on Google.
Most people will probably click the link to their blog. When users land there, considering a 2% "conversion rate," they generate boatloads of money. This is a good demonstration of how you can make money blogging.
One important note is when you do this search, the top results do not include any actual credit card companies at the top. Instead, you primarily see blogs that offer these credit cards as part of an Affiliate Program.
This is because most users want to read someone else's opinion about the product before they pull the trigger to get it. Affiliate Marketers fill that gap by providing the "expert advice" most users seek. As a result, they make money blogging through an Affiliate Payout.
Conclusion
I aim to compile as much information about digital marketing as possible in one place. I am tired of searching the entire internet for a nugget of information on each site, and I am sure everyone else is too. I want LouPrime.com to be where you and everyone you know can find the information they need to make money blogging or online in general.
We broke down several valuable parts of a good strategy, which I will continue to follow in this blog. We should focus on money right out of the gate. We should pick our niche based on research and data rather than passion. If we want to make money blogging, we need to choose a focus area that can be monetized.
Together we explored why it is paramount to get help with your blog. Starting with a writer is an impactful first step. Doing so will help you scale your traffic quickly because you can prioritize the tasks that drive traffic.
Finally, we talked about why making a monetization plan can make or break your blog. We should not be putting ads on our blog when it first launches. Nor should we be cramming in Affiliate Marketing links without any traffic. Starting with a high-end Consulting Service is all we need; we can step into these other income streams as our traffic grows.
Thank you so much for reading, and I hope you found value in it. I am eager to continue my journey and would love to hear about yours! Please hit me in the comments!
---
FAQs
Who can teach me how to make money blogging?
Really anyone can. However, if you want to learn the best strategies, listening to people with real success is crucial. Use tools to discover whose strategies are working and whose are not. Learn who can teach you best above.
How can I make money blogging?
My #1 Tip is to run your blog like you would run a business. Remember, there are plenty of tasks that make a business successful. A blog is no different. You must give time to every aspect of your business, not just the writing part.
What is the best strategy to pick a niche?
Picking a niche based on passion is okay (not really). But picking a niche based on data will accelerate your income potential growth. Your niche should be provably profitable. This can be verified by understanding your audience through data.
Can beginners make money online?
Yes! I have a whole guide dedicated to various ways you can make money online, even as a beginner. That guide lists 30 ways to make money online, with varying degrees of focus required. Check it out!
Do I need to do all the work myself?
Is there a good strategy to monetize my blog?
There is a strategy that seems to work well. Monetization is a timing game. You want your readers to stick around. It is crucial to monetize the right way at the right time, otherwise, you could make your audience shrink instead of grow.
I heard backlinks are good. Is that true?
Yes! Backlinks are a vital part of building an internet reputation in the eyes of search engines. Gaining quality backlinks from reputable sources in or around your niche can be the difference between 100 monthly users and 10,000. Check out my backlink guide for more details.
What is a Sales Funnel?
A Sales Funnel is a guided path through your content that directs qualified leads to take a specific action. Typically that action will generate income for you. There are various stages of the Funnel that a user can be in. I explain everything in my Sales Funnel guide.
Where can I find tips on doing Keyword Research?
I have a Keyword Research guide containing several tips and tricks! Several of my readers have indicated I have a few tips they never heard of before, so it could be worth checking out!
Would you recommend any writing tools?
Yes, I would! Grammarly is the best writing tool available right now! I reviewed Grammarly's primary writing tool recently. My favorite part is that they have a Grammarly Chrome Extension that is best in class!
What is Adam Enfroy Net Worth?
Adam has an estimated net worth of around $12,000,000. Adam Enfroy net worht is based on his $250,000/month income from SaaS products, masterclasses, and affiliate income.
Why so many Adam Enfroy stats?
Honestly, my SEO profile seems to have a focus on his information. This is likely due to the fact that I link to his site a number of times in this article. I decided to lean into that SEO juice by adding some random facts people typically search for.